It's spring and the artichokes are blooming! The best part of the plant is the "heart" but the meat of the entire plant provides powerful a burst of vital nutrients. Low in saturated fats and rich in fiber, vitamins, and minerals, this delicious member of the thistle family of flowers gifts us with vitamin C, B-6, B-12 (important for vegetarians and vegans), E and D! Artichokes also contain calcium, iron, potassium and zinc, to name just a few. These antioxidants provide support for the immune system, heart function and improve blood pressure while supporting the digestive system. In addition, bone health and improved brain function are great reasons to work this delicious vegetable into your diet.
This month, we've gathered a number of resources to support a healthy and delicious relationship with the remarkable artichoke!
Braised Chicken with Artichokes & Olives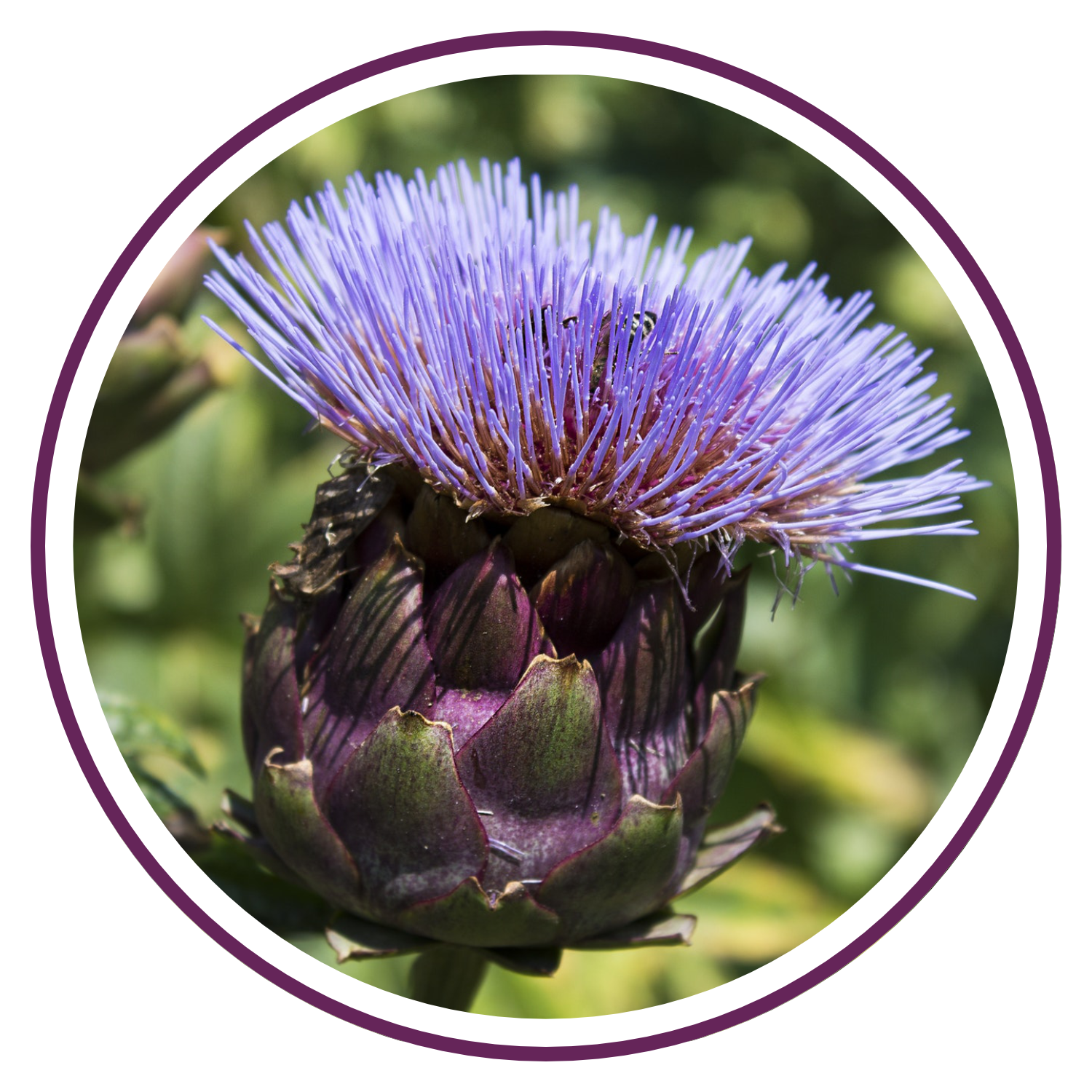 Gorgeous artichoke flower in bloom.
One of our favorite chefs, Rebecca Katz, offers a delightful main in her Braised Chicken with Artichokes & Olives recipe. Made with chicken thighs that are full of flavor and won't dry out during cooking, this dish celebrates the wonderful flavor of artichokes combined with exciting spices. Rebecca notes that you can use canned, frozen (and thawed), or fresh artichokes in this recipe.
Kale & White Bean Artichoke Dip
The team at Minimalist Baker fully embrace the delicious paring of cool and crunchy with warm and smooth with their Kale & White Bean Artichoke Dip recipe. Who can resist the call of fresh raw vegetables with a dollop of creamy dip? Plus, this appetizer is nearly guilt free since it's packed with antioxidants, fiber, and other ingredients that are good for you!
How to Clean, Trim, and Prepare Fresh Artichokes
The swanky bunch over at Serious Eats put together this short video on how to properly handle an artichoke. Their article also shows step by step instructions (with pictures) to guide you through the process of prepping this wonderful food.